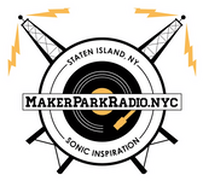 WHAT IS MAKER PARK RADIO?
Maker Park Radio is a Non-Profit Community Streaming Radio Station broadcasting from MakerSpace NYC in the Stapleton neighborhood of Staten Island in New York City. Started in 2017 by founders Kristin Wallace and Tom Ferrie in order to create a hub for artists and music lovers, Maker Park Radio has grown to be an integral part of the arts on Staten Island. We are supported by our community sponsors and listeners and are 100% volunteer-run. MPR amplifies the incredible arts and cultural communities on Staten Island and creates a space for artists to showcase their work as well as a safe space for discourse through discussion of the arts. We support artists across mediums and genres and provide a free space for people to celebrate and share the love they have for their music and culture. Maker Park Radio DJs and Radio Hosts champion talent and value to the curation and documentation of music and its artistic history as well as the art of DJing.
It is free to DJ at Maker Park Radio. Our DJs and Radio Hosts are community members with varying DJ experience. We provide training and support to new DJs as well as free practice space and time and workshops in DJing, broadcasting, marketing, and journalism.
Maker Park Radio produces live music events in Maker Park and at venues across Staten Island and we support community partners with A/V assistance and DJ services.
Our programming is free and available to be viewed and listened to through our website and our free App, as well as through third-party applications: TuneIn Radio, Facebook, and YouTube.
FOUNDATION & GRANT SUPPORT:
Maker Park Radio, Inc. is funded in part by The National Endowment for The Arts, The Staten Island Foundation, New York Counsel On The Arts, and the New York City Department of Cultural Affairs. THANK YOU!
BOARD MEMBERS:
Kristin Wallace – EO, Tom Ferrie – Treasurer, Officer, Chris O'Brian – Education, Officer, Dan Mackta – Officer, Karen Kalriess – Fundraising, Secretary, Officer, Scott Van Campen – Officer, Pamela Adamo – Fundraising, Officer
CONTACT:
MAKER PARK RADIO, INC is a 501c3 Non Profit
MakerParkRadio@gmail.com