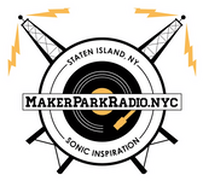 VOLUNTEER!
DJ at MPR! Have a good idea for a show? Send an email to MakerParkRadio@gmail.com We are looking for many different types of music. You do not need to be an experienced DJ or radio host to have a show. We take shows that are music and artist / maker-focused only. We may not take a show if there is too much of that music genre already at the station or your show is primarily talk radio. All sub-genres of Hip Hop, Electronic, Dance, Latin, Eclectic, and Global music genres are encouraged to apply.
Help Us Out At Events! We often need help with building, sound and lights, event production, and help at merch, entrance, or vinyl record tables! Give us a shout at MakerParkRadio@gmail.com
DONATE!
Make a donation! Any amount helps, and we will send you a receipt for your donation to Maker Park Radio, a 501c3 Non-Profit. Donate via PayPal or Credit/Debit Card HERE!!
Donate your vinyl records! We will come and pick them up! All proceeds from the sales directly benefit the station! Email MakerParkRadio@gmail
Donate Goods And Services! It takes a village! And we are always in need of food and beverage donations, contractor help and equipment, etc. We would love any basket raffle donations for our record fair fundraiser in June! Please contact Kristin at MakerParkRadio@gmail.com
BECOME A COMMUNITY PARTNER!
Sponsor Maker Park Radio as a Community Partner! Your logo will be displayed on our website and your banner will be welcomed at any of our events! DJs will thank you at various times throughout the week. Contact MakerParkRadio@gmail.com for our very reasonable rates!