People make up music scenes and Makerpark Radio in Staten Island, NY has created a sensation with the help of talented people from all walks of life — Spotlight on author Rocio Uchofen by Rob Janicke
---
Music is many things. It's a sound we sing along with, dance to, and generally have a great time with. It's a sonic pleasure that breaks all language, cultural, and societal barriers. At its core though, it's something bigger than all of that.
I've partnered up with the folks at Makerpark Radio, where I had a show for about three years and will return to at some point, to introduce and highlight the wonderful people who DJ and create for the Staten Island community as well as the world at large.
This is our first installment. I invite you all to come along for the ride.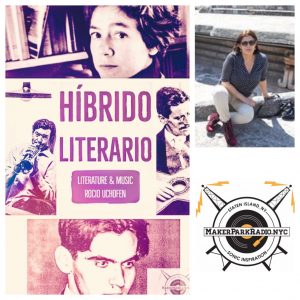 Rocio Uchofen graduated from the Specialty of Linguistics and Literature at the Catholic University of Peru, where she was also a member of the Open Book Cultural Association.
Her stories and poems have been published in various anthologies in America and Europe. She has published the storybooks Odalia y otros sin comer, Somewhere inside the Labyrinth, En somewhere in the Labyrinth; and the poetry books Liturgias Clandestinas, El Oscuro Labertinto de los Sueños and Geometría de la Urbe.
She currently resides in Staten Island, New York from where she runs the Literary Hybrid website and a radio program with the same name.
Literary Hybrid: Literature & Music, is a monthly program that is transmitted through Maker Park Radio. Each episode is a literary testimonial from writers and creators in New York City.
I had the pleasure of interviewing Rocio to discuss her background, show, and overall artistic outlook.
Being a writer is who Rocio is at her core. It's what she wanted to do ever since she was a child growing up in Peru. A lover of all art, writing is where her heart is and what she bases her show on at Makerpark Radio.
In the three-plus years her show has been live on the station, Rocio promotes the work of other writers from all walks of life.
"Being around other creatives is very stimulating. I love the exchange of ideas that comes from it." — Rocio Uchofen
Her show is conducted in Spanish and focuses on narrative and poetry. If you don't speak Spanish, don't worry because her website is in English as well and you can read the works of her and all of her guests. In a city such as New York though, it's important that Rocio speak directly to the Spanish community.
"The Spanish community in New York listens to my show to hear about their culture, writing, and even some music in their language. This is empowering for them." — Rocio Uchofen
Most people associate a radio show with music and Rocio knows very well how important that is. One of the great things about her show is that she interviews people from all cultures and countries. When guests appear to discuss their writing, Rocio plays music from wherever the guests come from.
"Music heals, music is memorable." — Rocio Uchofen
---
Hosting a radio show is a lot of work. It takes time, energy, creativity, and care. Add to it that it's completely voluntary and you know this is a full-on labor of love. It's people like Rocio and the folks at Makerpark Radio who keep the idea of artistic expression in the community alive and offer what they produce to the world at large.
To learn more about Rocio Uchofen, check out the information below.