For me, this is the perfect rock 'n' roll song:
From Little Richard to the Stones to the Stooges to the Hives , for me, rock 'n' roll is at its best when it's raw and basic. It's loud, swaggering, and in your face. To quote Lemmy, "Rock 'n' roll ain't worth the name if it don't make you strut." It's got a beat that'll get your blood pumping faster than you thought possible and, if you're as old as me, make you remember how it feels to be sixteen again. As much as I love prog rock, punk rock, and metal, it's the simple razor-blade-clean purity of a pair of guitars, bass, and drums behind somebody singing wildly that gets me every time. Those other styles all cloak themselves with theatricality, that as much as I love it, can obscure the music. Rock 'n' roll was music for teenagers and was about girls, cars, and partying. And sometimes surfing. The Sonics were never going to sing about Henry the Eighth's wives, but they sure were going to sing about cars like in "Boss Hoss."
Garage rock refers to bands playing in simple, often amateurish styles, quite often literally in their garages. At some point, rock 'n' roll morphed into rock music. It was still exciting, but it became increasingly complex, both in style and concerns. Sometimes, it became serious, sometimes to the point of tedious solemnity. What it stopped being, to many fans, was fun, so they attempted to recapture those early less sophisticated sounds. Howlin' Pelle Almqvist of the Hives put it this way in an article in the Chicago Tribune:
"It is pretty strange to come to America playing this type of music and being praised for it," says Hives vocalist Pelle Almqvist in an interview. "After all, America invented it. But I haven't liked a lot of the guitar-based American music of the last 10 years. For a time, it evolved in the wrong direction. Our goal was to de-evolve it, bring back some of the elements that were lost."
From the moment rock music emerged in the late sixties, a reaction began that tried to get back to the roots. One of the most important events that helped inspire this movement was the release of the Nuggets album in 1972 compiled by Lenny Kaye (later, Patti Smith's guitarist), on Elektra Records. It brought together four sides of songs that have practically come to define the garage rock sound, such as "'Open My Eyes" by the Nazz, "I Had Too Much to Dream (Last Night)" by the Electric Prunes, and "Wild Thing" by the Troggs.  At the same time, there were plenty of individual bands flying the flag for basic rock 'n' roll, like the Flamin' Groovies and the Real Kids. In the UK, first pub rock, and then punk rock, aimed to restore rock to its basics as well. Even as recently as twenty years ago there was a short garage rock revival that, along with the Hives, included some great Detroit bands like the White Stripes and the Gories, and Australian bands Jet and the Vines.
The Gories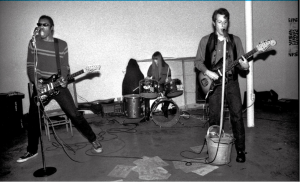 No matter what trends and styles have emerged, there have always been bands playing stripped-down rock 'n' roll. Punk rock came and went, but garage rock never stopped. Hip hop has come to dominate the world and rock music isn't anything near the force it was even twenty years ago, but garage rock has never stopped. I'm not sure at what point garage rock became its own genre. All it was in the sixties was just rock'n'roll. I suppose it became an element of marketing or fostering a scene, but whether from
This led to the coolest thing I've learned over the last two years with my Music I Like, my show on Maker Park Radio: garage rock is flourishing around the world. Japan, Spain, Mexico, Sweden, and lots of other countries have amazing garage rock scenes. I knew of bands like the Hives from Sweden and during the garage revival back in the nineties, but I never knew just how many bands were out there flying the tattered flag of three-chord rock 'n' roll.
Los Saicos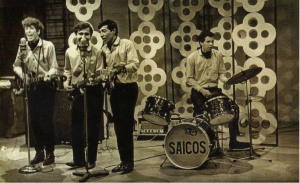 It all started when I decided Music I Like needed to expand beyond its mostly American and British confines. As much as I was finding new bands or old bands I'd never heard of, I was still replaying songs. I just had a gut feeling there was something else out there if I hunted in the right direction. When I started doing random Google searches for "Spanish language rock and roll" I discovered Los Saicos, from Peru. They were part of a wild rock'n'roll scene in Peru that was killed off as a bad influence by the left-wing military dictatorship in the late sixties. The first time I played their signature 1964 song, "Demolicion," I knew I had been exposed to something momentous. The song opens with a rapid drum beat, is joined by the bass, and finally, in a guttural voice Erwin Flores sings:
 Ta-ta-ta-ta-ta-ta-ta-ta-ya-ya-ya
Echemos abajo la estación de tren / Echemos abajo la estación de tren / Demoler, Demoler, Demoler / Demoler, demoler la estación de tren
Which translates to:
Let's destroy the train station / Let's destroy the train station / Demolish, demolish, demolish / Demolish, demolish the train station
Apparently, despite it being a tumultuous time in Peru, the song wasn't political, just anarchic. That in all my years of listening to music, this blast of sonic aggression had escaped me and blew my mind. When the Rolling Stones sang about anarchy it was as wry observers and the Jefferson Airplane's call to revolution was just one more bunch of middle-class kids talking tough. On the basis of that one song, I had to find out as much about Los Saicos as I could as soon as I could.
Digging into Los Saicos' history led me to discover a wealth of garage rock bands from Tierra del Fuego to the Rio Grande. None of these bands ever seem to have made any dent in the English-speaking world and it's a crime. Mexico and Peru seemed to have had the most bands, but I found cool music from Argentina and Colombia, as well as Guatemala and El Salvador.
Los Guajes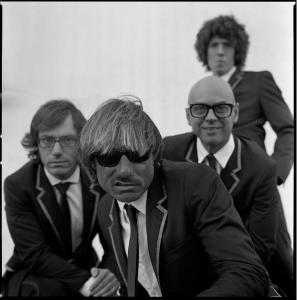 Realizing I was on to something great, I kept looking for more and more Latin American bands. That led me directly to Spain. It turned out, not only did Spain have some good bands in the sixties, they had an even better bunch of bands today. Los Guajes, Wau y los Arrghs!!!, and Los Aspiradoras are all bands I would kill to see live. Discovering modern Spanish bands led me back to Latin American where I discovered contemporary bands such as Los Románticos de Zacatecas (Mexico), Davila 666 (Puerto Rico), and Los Peyotes (Argentina).
Los Peyotes
After exploring Latin America and Spain I ended up, first in Scandinavia and then Japan. I knew the Hives from Japan and Guitar Wolf from Japan, but that was about it. Turns out, both are jammed to the rafters with bands burning up stages with music soaked in sweat and adrenaline. bands. Sweden has a ton of great bands like the Hellacopters and Mando Diao, but Japan's scene is even wilder and bigger. To get a sense of just how wild Japan is, here's an article highlighting a dozen of the more than fifty bands that played a Halloween festival in Tokyo in 2019. They're not all great, but, to use a phrase of Guitar Wolf's, they're all absolutely dedicated to making maximum "jet rock 'n' roll." Some of them will burn your freakin' face right off.
Guitar Wolf in the movie Wild Zero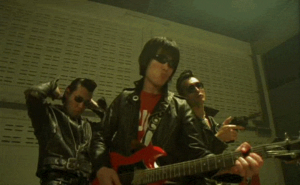 For nine months now, I've done an International Garage Rock show on Music I Like. I'm in the process of building the International Garage Rock site. You'll be able to see every show setlist and get a link to the Livestream videos. Eventually, there'll be articles on bands, old and new. I'm hoping to turn it into a valuable resource about the music. If you have any ideas or questions, contact me at internationalgaragerock@gmail.com.
Fletcher Vredenburgh is the host of Music I Like on Makerparkradio. The show airs Sundays at 4pm.