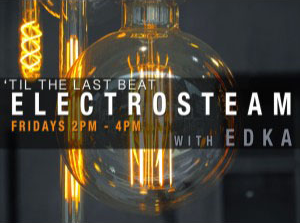 Electrosteam w/ Ed & Edviq
Electrosteam is your guide to the world of electronic music, anything that sounds experimental, interviews with musicians and artists, live broadcasts of live performances and events. Hosted by Ed Ka and Edviq.
Ed Ka has started his musical endeavors in the early 1990's as an electronic music producer a.k.a. Neomatik. He released several solo albums including collaboration with an award winning music producer Benny Kay and record producer Dmitry Strizhov at Proforma Records. Back in the 90s while mainly focusing on studio work, Ed Ka was involved as an organizer, promoter and performer of many rave parties all around New York. Ed Ka is frequently invited to participate in various festivals and live events as an "electronic guru". Launching his own radio show was a very natural progression of Ed Ka's creativity and passion for music.
Edviq is an electronic music producer and sound designer. Classically trained, his specialty is house music. Over the years he produced numerous tracks that reached top positions in major digital charts. He worked with some of the world's leading brands on advertising campaigns, composed original music for award nominated independent films. Currently Edviq is working on his solo EP and collaborating with international artists as a remixer. He enjoys riding his Brompton bike on the streets of New York while listening to his favorite tracks.