Despite its many downfalls, the internet is obviously the greatest thing to ever happen to music fans and radio-makers alike. Gone are the days of being relegated to just the records, tapes and CD's that we could store- a total game-changer for those of us in small NYC apartments. As a person who used to record mixed tapes from CD's and radio (and even did a stint on FM radio in the late 90's), the opportunities to almost effortlessly spelunk pop-culture, super-niche corners of the art and music universe and everything in between still blows my mind.
This accessibility is an incredible complement (and component) to the paradigm shift that is underway in the classical music world; where composers are reflecting the diversity and untapped potential that exists beyond Bach, Beethoven and the silver-haired patrons of Lincoln Center. Here are three women who are killing it on the classical and experimental scene.
Angélica Negrón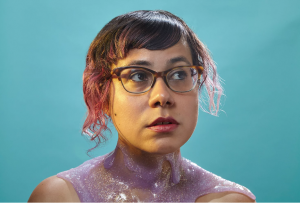 (c/o https://www.angelicanegron.com/)
The 2016 single El Colapso was the gateway drug to Puerto Rican-born, Brooklyn resident Angélica Negrón for me. Her latest release, an original motion picture soundtrack called Landfall, is going to be in heavy rotation in my 2021 shows. You can't go wrong with someone who composes music for accordions, robotic instruments, toys and electronics as well as chamber ensembles, orchestras and choir.
Natalie Joachim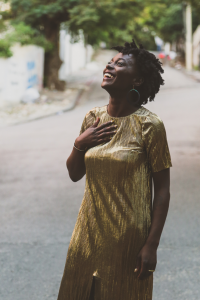 (c/o https://www.nathaliejoachim.com/about/)
I had the pleasure of being on the same stage as Nathalie Joachim many years ago. She was with her other project, flute duo Flutronix and they were performing with Melodia Women's Choir of NYC, with whom I was a humble second soprano at the time. Flutronix is part classical music, hip-hop, a solid nod to Erykah Badu now and again, electronic and they're simply amazing. But Nathalie Joachim's solo work, in particular her latest record Fanm d'Ayiti, is one of the coolest things I've heard in a long time. Joachim uses strings, flute, vocals and electronics to engage in a poignant exploration of her Haitian heritage and pays homage to the women- from iconic yet largely unheard Haitian female singers to her own grandmother- who are the soundscape and foundation of it all.
Bora Yoon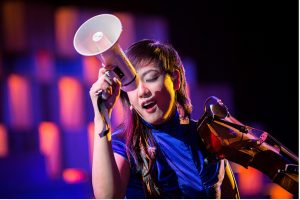 (c/o https://www.borayoon.com/)
I first encountered the acclaimed Bora Yoon singing a solo in Icelandic in a random Manhattan church over 10 years ago. I had no idea what a gem of a sound and multimedia artist she was and truly had no idea of the degree to which she intrepidly explores all things subliminal and ineffable. I don't even know where to tell you to start with Bora Yoon- she's a real one. Maybe her performance for TED.
Thankfully, classical (and classical-ish) music will not be rendered obsolete when there are so many more women, BIPOC, queer and young composers bringing new work, new norms and a new schema to the genre. I look forward to sharing more of my favorites and continuing to play them on Maker Park Radio.